New OnTime Group Calendar 9.1 and Discovery 3 Client Released
The functionality and user friendliness of OnTime Group Calendar is again taking a major leap forward.
The latest release of the Discovery Interface for OnTime Group Calendar is loaded with a host of new features that revolutionize the way organizations manage their time and resources. The Discovery Interface has been part of the standard OnTime Group Calendar entitlement for some time now. As you can see on the graphic below, the interface has improved and is more user friendly. It offers a number of brand new features including advanced search functionality and centralized distribution of the Discovery interface. Even though many organizations have been impressed with the functionality of the previous versions of Discovery the need for local ini files has been an obstacle. IntraVision is pleased to announce that these ini files are no longer needed. With Discovery 3 the settings are saved to a profile in the mail file making them accessible anywhere.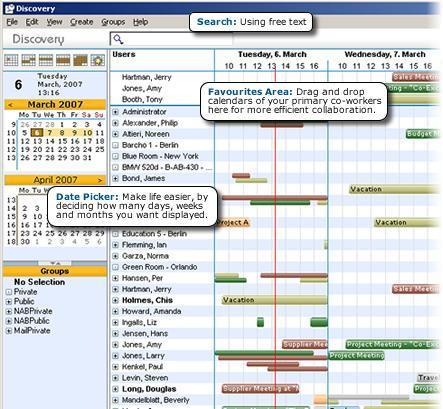 OnTime Group Calendar version 9.1 released
New features of OnTime Group Calendar in version 9.1
Support for Discovery 3
All personal settings for the OnTime Discovery client are now stored in your personal mail file, eliminating the need for the discovery ini. This means that OnTime Discovery will always be opened with your settings – no matter which computer you work on.
Reading NAB from alternative domain/server
It is now an option to let OnTime read the Domino Directory from another server other than the OTAdmin server. This is particularly useful if the installation is setup using the multiservertask on a dedicated OnTime server configuration.
Faster synchronization using private view
"Enable use of views in private Mail database" is a new Group Calendar configuration parameter. Selecting this creates a hidden view in the private calendars containing all calendar entries which makes synchronization faster and reduces the server resource usage.
Deletion of imported holidays in Broadcast
Holidays imported from Domino Directory to OnTime Broadcast can now be deleted from Broadcast in one command.
Additional search formulas
For each calendar a search formula can setup criteria to specify which calendar entries to synchronize. Formulas can be setup in Icons & Colors covering all group calendars.
Dynamic Groups in OnTime AutoConfig
In OnTime AutoConfig, groups can now be created from the value in selected views by setting a formula or selecting a column from databases. An example could be getting this from the Domino Directory.
New in the OnTime Discovery 3 Client
Create calendar entries from Discovery
Meetings and appointments can now be created/booked from within OnTime Discovery.

Easy search
The new Search function in Discovery allows search for Subject, Department or any field collected into the Group Calendar from the Domino Directory.

View of only selected Categories
Selected types of calendar entries can be isolated in Discovery to get an easy overview of certain categories, such as Client or project meetings.

Favorite persons
"stay on top"
Favorite persons can be dragged to the top of the group calendar and be visible no matter which group is selected.

Extended busyline for selected persons
A horizontal busyline showing availability can also show availability for selected persons/resources. The higher the intensity of the red color the more people within the selected group are unavailable at that particular time.

Zoom function in view
The various views in Discovery can be used to zoom on showing details of a week in a month or of a day in a week.

Working hours visible
Working hours showing persons availability is collected from Preferences in personal calendar and showing when people can be booked.

Calendar Picker
Using the Calendar Picker is an easy way to switch between months/dates.
Default settings for user set in calconn
In Calconn different default settings for Discovery can be set for each user of the group calendar. This means that for example each department or country could have their own set of setting.
Private mail groups from personal directory
Group criteria has been extended to include groups from a your Personal Address Book.
Use of language files to tailor Discovery settings
By changing the language files, the settings menus in Discovery can be changed to suit the organization.
---
GreyDuck Technology is a business partner of IntraVision and reseller of OnTime Group Calendar and Discovery Client.
Contact us at (763) 420-2570 or info@greyduck.com for more information.