Happy New Year!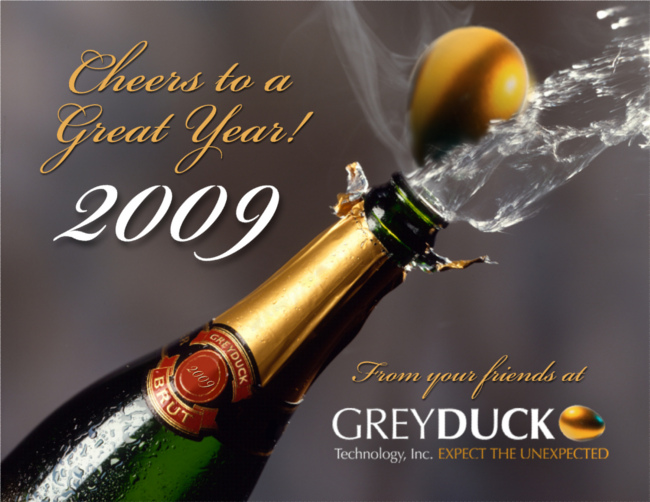 Looking back on this past year, GreyDuck is extremely proud of the projects we've been involved in.  Some of the highlights include:
improving the efficiency of prescription insurance appeals
increasing the sense of community and personal connections within a large family-owned company
enabling a sales team to the point that competitors complain loudly about them
tracking and managing the overhead costs associated with recycling
shortening the new product development lifecycle...
and more. In fact, much more when we look beyond just application development projects we've done and think of ways we've helped with our clients' Lotus email and application infrastructures which touches nearly everything they do.
Going forward, we know there are tremendous changes coming.  "Social software" is becoming a common term.  This creates new frontiers for working together.   The 3 "C"s of Communication, Coordination, and Collaboration that Lotus Corporation preached during the mid-90s has had its impact and evolved.
GreyDuck continues to be positioned to meet these trends head-on for our clients.  The potential within Lotus Notes version 8 has yet to be tapped in many companies, and Lotus Notes/Domino 8.5 is due to be released soon.  This version is a great web development platform with new capabilities plus new administrative features that will drastically reduce storage and backup costs.  Additionally, Lotus Connections is gathering more momentum because of how it can make organizations smarter.  Enthusiasm is being echoed in the media; we're seeing more pro-Lotus articles than we've seen in a long time.
Of course we are concerned about the state of our economy and other issues in the world, but rather than be discouraged, we continue to see the growing value of the work that we do.  The reason we get up in the morning has, if anything, been brought more sharply into focus.  There is still much more work to be done to improve agility and coordination, help people work smarter wherever they are, and leverage each others' abilities.
With this in mind, we'd like to express our heartfelt holiday wishes and gratitude.  Without you, we would not be where we are now, excited for the future.
Happy New Year!